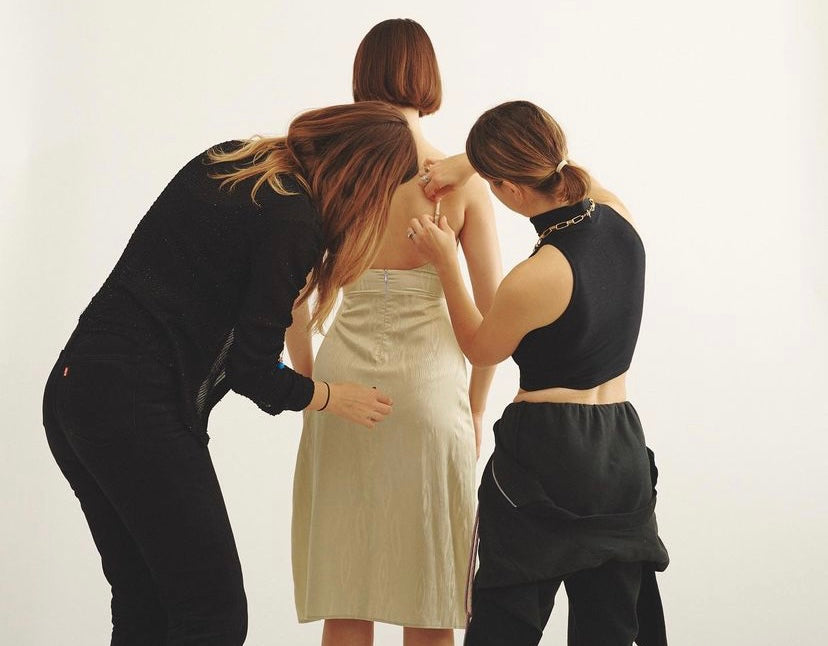 The Creation of The Brand: What is La Femme Apero?
La Femme Apéro is a chic, bold, feminine and 'accidentally sexy' brand with deep French roots and a downtown New York twist. We focus on timeless yet trend-right silhouettes cut in high quality fabrics. The brand is the culmination of founders Sarah and Léa's many years of friendship and adventures in the fashion industry, both in Paris and in NYC. 
The two founders both worked in the fashion industry for many years before starting La Femme Apero together.  Lea worked as a designer, most recently for Intermix's private label, and Sarah is a stylist and works for an extended range of brands from Uniqlo to Tory Burch to The Row. Funny enough, Sarah and Lea met in Paris through mutual friends when they both still lived in Paris. Later down the line they both moved to New York City completely separately, yet ended up reconnecting in their new city and bonded over their shared experiences and working in the same industry. 
At La Femme Apéro the owners aim to translate the natural and authentic ease and sensuality of the French girl through the garments. Above all, they want the designs to inspire confidence, self-love and happiness in whoever is wearing them. You may be A La Femme Apero girl if you; doesn't take yourself too seriously, fun, smart and nonchalant. The designers and photographers never retouch pictures besides some color correction and the styling is here to support the clothes and really make the girls shine. It's about who wears the clothes. Lea and Sarah also work with a diverse group of models that represent many types of  bodies and people.
You may have heard of the term, "Forever Wardrobe" which refers to building your wardrobe with staples that not only express your personality, but also will last years. Even in the early days of designing collections for La Femme Apero, the designers focused on creating items that would easily become staple pieces in any wardrobe. The best selling item; The Apero Dress was worked on and reviewed many times to make sure it would fit and be flattering on everyone. As time moves on, they edit the style for returning and new customers to provide new print options.
The Production: 
La Femme Apero believes that clothes should be made ethically and therefore implement steps to ensure the wellbeing and health of the people that make the products. Clothing can, and should be ethically made yet fun, exciting and chic. The brand seeks to uplift women by partnering with a woman-owned factory in Istanbul, Turkey. This factory verifies safe,  equitable working conditions, and fair wages for all partners. They also source local fabric with verified recycled content and clear traceability.
Ethical Mindset
The Designers at La Femme Apero prefer to describe the brand as "ethical" rather than "sustainable".  They want to practice transparency and feel like it's a less opaque term. "Ethical" practices refer to moral principles of protecting and ensuring the wellbeing of the people involved in production and the product life cycle.
 What Ethical Production Looks Like At  La Femme Apéro:
They are committed to ethical manufacturing practices by; working with a woman-owned factory in Turkey that is regularly audited and ensures safety and fair wages for the workers (Oekotex standard).
Source all fabrics and trims locally in Turkey to reduce carbon footprint created by transportation, as well as only produce small quantities.
Try to reduce pollution and waste by using certified recycled fabrics for runs such as the bubbly Sateen, or fabrics with a recycled content like the Flame jacquard used in the

Vendez Vous Pant

. Alternatively, they buy fabrics that are over produced from third party companies, an example of this is our

Mesh Tops

.  La Femme Apero suppliers are GRS (Global Recycled Standard) certified, which is a third-party certification that guarantees the fabric's recycled content is genuine and traceable back to the original discarded plastic bottles, providing end-to-end traceability and transparency. Whenever possible, they buy deadstock fabrics to make small quantity capsules.
 Use recycled packaging for our poly bags and mailers. Our thank you cards and branded stickers are all compostable.
A Note On The  Spring/Summer Collection: 
When you wear La Femme Apéro, you have the vibe of iconic women like Brigitte Bardot, Sophie Marceau, Laetitia Casta. The aesthetic of the last campaign shoot for example, is inspired by the classic movie La Piscine - our color palette is a nod to the film.
For SS22, Lea and Sarah continued to expand their range! They were inspired by the South of France and the nonchalant chic of its resort towns. With the customers' feedback in mind, they added more declinations of the bestseller dress - a bra-friendly version with a longer length and no slit for a more evening look. They are also expanding into tops and more sets, items that offer an opening price point and a lot of versatility to mix and match within the line or with some denim.
Mar 17, 2022

Category:

News
Comments: 0