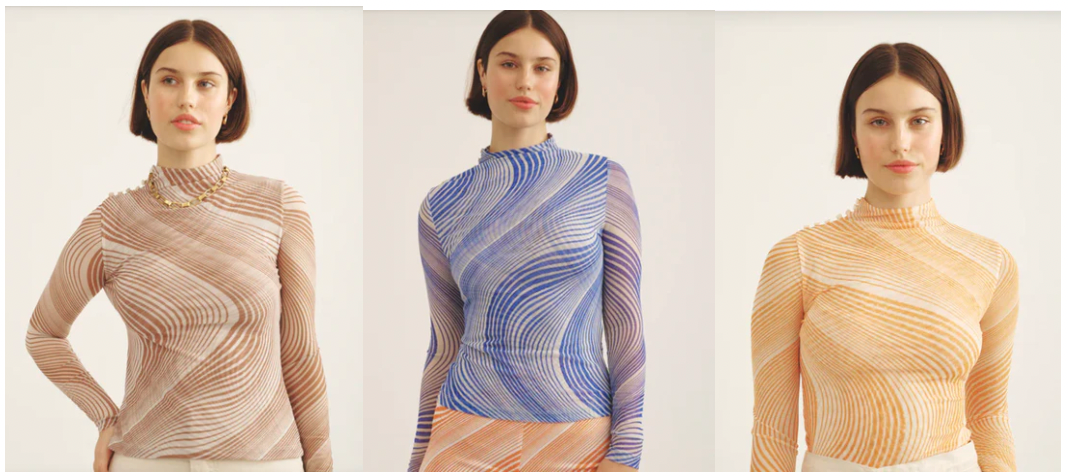 Confessing Our Thoughts on Mesh
by Isabella Ortiz
Spring is the time to put away your sweater and bust out the mesh tops. New York City's weather is warming up and it is the perfect time to experiment and explore new fashion styles. 
Mesh tops are a large trend we have seen making its way into this spring season. We previously blogged about Rihanna's Oscar party look and finding ways to recreate the look while also keeping it casual. We can confidently say our mesh tops are very versatile and we are here to share the many different ways to style them. 
Our La Femme Apéro Mesh Mock Neck tops are perfect to add to your spring wardrobe. We offer a variety of different colors including: blue, orange and, brown. The top is soft mesh fabric. This style has long sleeves and a mother-of-pearl shank button detail at the right shoulder. It comes in our exclusive Wave print. All buttons and loops are function.
These tops are the perfect transitional pieces - they are great as a layering piece underneath a sleeveless dress in the winter or worn on their own. 
Keepin' it Casual
Bust our your favorite pair of jeans; they will never steer you wrong. Pairing our Mesh Mock Neck top in Watermelon Wave with a pair of your favorite pair of jeans is a quick and simple outfit to put together for a brunch date. For an evening look, you can elevate the outfit with adding a leather jacket. 
Elevated & Classy 
Our La Femme Apero Mesh Top is also available in our floral neutral print. All of our mesh tops are lined with printed self fabric at the front and back bodice for an elevated finish and good coverage. 
A great way to style the top to achieve a more elevated and classy look is paring it with a long, flowy skirt. Alexis Rose, @styleintheknow, styled our Mesh top in Floral Neutral long satin skirt with a slit. With warmer weather fast approaching a skirt is perfect to pair adding sexiness to the outfit. 
Layering 
A great way to have fun with styling is layering. Adding our Mesh Mock Neck Wave top in black under any dress can elevate the look. Play around with different colors and textures to find your own unique style. 
Here we have own Apéro dress layered with our Mesh Mock Neck Wave in black.
Making a Statement
The fun about layering is making a statement with your clothing. A great way to spice up an outfit is layering a lace trimmed bra under the one of our mesh tops. Many mesh tops are sheer enough to wear a fun bra underneath and have it peak through.       
We love sharing many different way to style our Mesh Mock Neck tops and hope to inspire you to trying styling mesh this spring season. Please share your looks with us on Instagram @lafemmeapero. 
Apr 24, 2023

Category:

News
Comments: 0