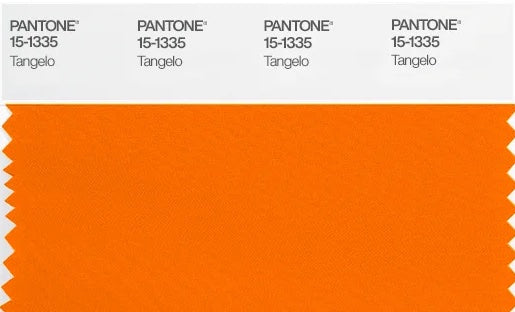 Is Tangelo the New Color of Summer 2023?: It Definitely Is and Here is Why
by Isabella Ortiz
Pantone always has us covered with forecasting the upcoming colors for the next season. For this spring and summer season, bright orange is all the rage. According to Pantone, Tangelo 15-1335 will be the color of the season and we are here to share where we have spotted this vibrant color. Pantone describes the shade as: "a tangy, tasty vitamin enriched orange."
The bright shade of orange can be found in logos including Hermés and Veuve Clicquot. The color was also spotted in numerous fashion shows debuting their spring/summer 2023 collections as well as our own brand.
Let's take a look where we have seen the color.
Hermés Logo:
Hermés is a luxury brand known for their bright orange logo. The color has become their signature for more than half a century. The color was first used in the early 1950's for their company boxes. Those same boxes became a vital element of their visual identity in turn making it their logo color. 
This warm citrus color became symbolic of the house after the Second World War. It was first used due to a shortage of cream-colored cardboard boxes. The supplier resorted to what he had left, which happened to be orange.
Veuve Clicquot:
Veuve Clicquot is one of the first producers of rosé champagne. The bright orange logo makes the champagne stand out from other expensive brands. 
Most luxurious alcohol brands prefer a sleek and simple packaging. However, Vueve Clicquot chose a bright color to "reflect the champagne's bright personality and impeccable wine making credentials."
La Femme Apéro
Our own brand is also loving the bright orange color. The Apéro dress, Gala dress, and Mesh Mock Neck Floral all are perfect for the warm that is soon to come.
The Apéro dress is a versatile, mid-length slip dress that can be worn dressed up or down. The v-neck and high slit makes the dress more elevated, however, styling the dress with sandals can make for an everyday look. 
The Gala mini dress is easy and light-weight to slip on. The dress is also very versatile as it can be worn for a cute, day-time picnic date or can be elevated for evening wear. 
The Mesh Mock Neck top is great for the cooler spring days as it is long sleeves. The fabric is lightweight and breathable. The mother-of-pearl shank buttons on the right shoulder make is very simple to get into. 
On the Runway:
Molly Goddard
 
Molly Goddard showcased their spring collection in London's fashion week. The first photo highlights a ruffled top with extreme shoulder accent details in the bright orange color. The second photo is a long sheer dress with layered, teared ruffles. The Arto Dress and Stella Dress are both available for purchase on their website. 
Alberta Ferretti 
Alberta Ferretti showcased their spring collection in Milan. The collection incorporated unexpected details and color combinations. As if the bright orange wasn't enough to scream spring, the collection included bright shades of pink and blue as well.
The color blocking Alberta Ferretti used in their show is a great way to incorporate more color into your outfits. It can be very intimidating at first but the warmer months are the time to step out of your comfort zone with color. 
We are excited to see where else this bright shade of orange will show up next. Tangelo can be added as a pop of color you never thought you needed. Will you be adding Tangelo into your wardrobe?
Mar 14, 2023

Category:

News
Comments: 0